WHEN JESUS ASKS YOU, 'WHO DO YOU SAY I AM?' HOW WILL YOU RESPOND?
It's a question the Lord asked of his very own disciples and a question the Lord placed on Mark Vermeer's heart. Take a peek into Mark's journey as he sought to answer the question in his own life. And may the question linger within all of our hearts, "Who do you say I am?"
One Day. One Location. One Jesus. See how this dream was born into the heart
of a local farmer, Mark Vermeer.
THE STAND

APPAREL WILL BE AVAILABLE AT THE EVENT

!
If you missed our online store, make sure to check out our apparel at The Stand!
There will be many of the same items available from our online store. Choose from a variety of shirts, sweatshirts and hats in multiple colors and sizes. This is a wonderful opportunity to help support this event while looking great at the same time!
Thank you for your support and for helping spread the word about The Stand!
All proceeds will go directly toward the expenses of this event. The Stand Inc. is a 501(c)(3) nonprofit organization.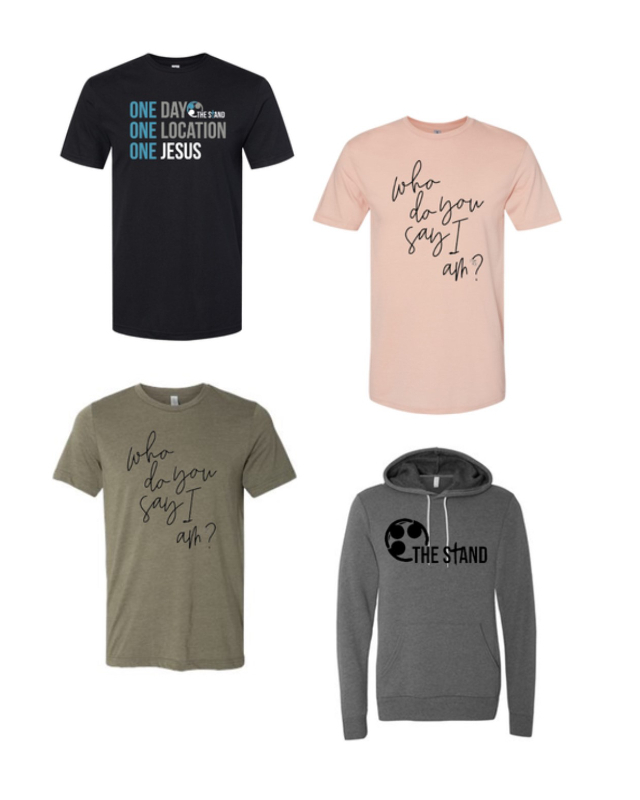 A variety of shirts, sweatshirts and hats will be available for purchase at The Stand!
COME TOGETHER AND AS ONE
On this day, all are invited to boldly take a stand for Him, to choose to live daily for Him, and to proclaim He is Lord! To live into this promise each and every day following this one, until the day when Jesus returns and at His name every knee will bow and every tongue will confess that Jesus Christ is Lord (Philippians 2).
Stay up to date by signing up for our newsletter.